shit game. lol
lol.
Difficulty
Edit
Ultra NOOB
Legend.
Missions
Edit
Blockout - Mining Town / Flooded Estate Edit
Cut Off - Mining Town / Radio Telescope Base Edit
Characters and Faction
Edit
Jonathan North (sexy madafaka)
Edit
Robert North - Gay
Edit
Frank Simms - Fag
Edit
Milla North - Cunt
Edit
Separatists - Faggots
Edit
Rotki Lions - Fag
Edit
Criminals - Assholes
Edit
23 Society - Pain in the asses
Edit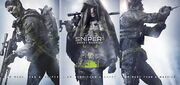 Weapons (subject to change)
Edit
Primary Weapons (Sniper Rifles)
Edit
Cheeki Breeki 98
Brezatelya
Shipunov K96
XM-2015
Vykop
Dragoon SVD
L115A3
BMT 03
Rook SS 97
Mosin Nagant m/28-30
Archer T-80
Turret M96
Secondary Weapons (Lmg, Shotguns Carbines and Assault rifles)
Edit
Archer AR15
AKA-47
Origin-12
FM-3000 UM
Giovanni Herstal
KT-R
OFM 500
Herstal
Galeforce Long
RPG-7
Pistols and Bows
Edit
Wagram 21
MP-40 Grad
SLP.45
Herrvalt 99
M1984 Pistol Rail
Sawn Off Shotgun
Beretta M9
M1984
Bull 686
Compound bow
Takedown bow
FOX Predator (Knife)
IXB Izofir (Knife)
US KA-ZAR (Knife)
Karambit (Knife)
Thermal Vision Goggles
Throwing Knife
Drone (Modifiable)
Night Vision Goggles
Frag Grenade
Smoke Grenade
Flash Grenade
Gas Grenade
Bouncing Betty Mine
C-4 explosive
Decoy Trap
Silencer Repair Kit
Warning Device
Adrenaline Pack
Pills
Medi-kit
The Escape Of Lydia
Edit
Ad blocker interference detected!
Wikia is a free-to-use site that makes money from advertising. We have a modified experience for viewers using ad blockers

Wikia is not accessible if you've made further modifications. Remove the custom ad blocker rule(s) and the page will load as expected.